Gornja Košana and surroundings

tourist map
Oštarija Špelca is located in Gornja Košana, in the eastern part of the Slovenian Karst on the border with Notranjska region, cca. five kilometers from Pivka and ten kilometers from Divača! This is the land where you can discover the mysteries of karst underground, thousands known caves and amazing shapes created by water in the fusible stone, and admire the picturesque natural phenomena above surface! And it is the cradle of famous white Lippizzaner horses, medieval castles, parks and many other cultural, ethnological and culinary specialities! Here are at home some world-famous wonders, at least the most famous caves in Slovenia - the Postojna cave, which is the most visited cave in Europe, the Škocjan Caves, listed in the world natural heritage at Unesco, the Križna jama Cave with its underground lakes, all probably connected to the Pivka Cave and others.
And some other frequently visited natural beauty and attractions, such as: Park of military history in Pivka, Prem Castle, Rakov Škocijan, Predjama castle, Snežnik Plateau, Snežnik Castle, Vremščica...
Restaurant & inn with accommodation Špelca
The Špelca restaurant & inn also offers 4 bedrooms *** category. The rooms are carefully furnished, with a common terrace and wireless internet access (WiFi), separate entrances, bathrooms and toilets! Breakfast, lunch and dinner are available to the guests, in addition to diverse local offer, natural beauty and attractions of Notranjsko-Karst region!
Room 1 ***
Gostilna s prenočišči Špelca
Gostilna s prenočišči Špelca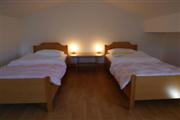 Gostilna s prenočišči Špelca